Kunagi, kui sai tellitud neid kõrvarõnga toorikuid, oli mul hirm, et need muudavad ehte liiga kalliks. Samas meeldisid need mulle tohutult. Alguses andis mängida, sest ei osanud neid kasutada, aga aja möödudes sai valmis kõrvarõngastest minev kaup :) ...ja siis said nad mul otsa.
Nüüd on uus partii kohal ja esimesed kõrvarõngad valmis. Preciosa kristallid (
Sahara
) ning Tšehhi rohelised ja roosad klaashelmed.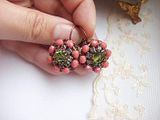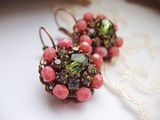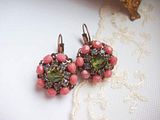 When I first ordered these earring blanks I was afraid that these will cause too high price when earrings are finished. But I really liked them. I had to try hard to find the best way to use them, but in time I found out that these became quite a hit :) ... and then I run out of the blanks.
Now these are restocked and the first pair is finished. Preciosa crystals (Sahara) with Czech green and pink glass beads.