Eks ma tegelikult teadsin, et see on vaid aja küsimus, kui hakkan lühtri osi ehetesse panema :) Ega edevusel pole ju piire ja pealegi, miks peakski üks kaunilt sätendav, peenelt lihvitud kristallklaasist asi rippuma ainult lae all? Samahästi võiks see rippuda ju kaelas. Kõrvarõngaks on see kahjuks liiga raske, ma proovisin...
Need kristallklaasist ripatsid pole perfektsed, on päevinäinud ja mõned täkked ja kriimud peal. Mind see ei häiri, panin juurde swarovski
Aquamarine
siniseid ehtekive kahte suurust ja Tšehhi klaaspärli ning seemnehelmeid.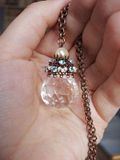 I guess I knew that it was only a matter of time until I start to hang chandelier components into my jewellery :) Ceiling is not a limit and why on earth should such a sparkling beauty with so many facets hand only on a lamp? So I put it in a necklace. It's too heavy to be in earrings though, I tried...

These pretty crystal glass drops are not perfect. They have seen times and have some tiny nics and scratches on the surface. It doesn't bother me, so I added some two different size swarovski chatons in Aquamarine, Czech glass pearl and some seedbeads.