Asi, mida olen tahtnud proovida ammu-ammu. Kas eestikeelne vaste on rõngastest punumine? Ühesõnaga olen tahtnud seda ammu proovida, kuid asi jäi ikka laiskuse taha. Ostetud rõngad said niigi ruttu otsa ja ise keeratud ja saetud võtsid liiga palju pingutust (10 rõngast ja sõrmed saagimisest valusad ja krampis). Aga kui üks hulgimüüja vahetas 0,8mm traadist rõngad 1,0mm traadi vastu ja ütles, et esimesi enam ei hakka müümagi, siis olin hädas. Sest viimased ei sobi teiste metallvidinatega. Leidsin ühe tehase nimekirjast 0,9mm traadist rõngad ja tellisin sealt, mis see nüüd oligi... 5000tk. Aga kui need kohale jõudsid, tuli välja, et ikkagi olid liiga jämedast traadist - ju see 0,1mm vahe oli just see piisav. Ja niimoodi tekkiski rõngaste üleliigne varu 5000tk.
Õpetusi otsisin
CGMaille.com
lehelt, ilusad selged pildid. Antud käekett on
Full Persian
. Sünnipäevakink mu vennale :)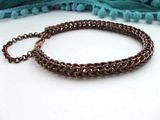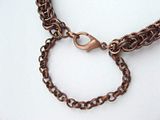 Chainmaille is a technique I wanted to try out for so long time ago. But I never had enough rings to start. The ones I bought from shops run out fast enough and making my own took a lot of time and strenght (after sawing 10 rings my fingers were aching as hell). But when my wholesaler changed out 0,8mm wire rings to I use a lot and said they'll never carry those again I started to look elsewhere. Found a manufacturer of 0,9mm wire rings and ordered some... 5000pcs. When they arrived I found out they don't fit with my jewelry findings and voila - just like that I had overstock of 5000pcs rings.
I looked for tutorials from
CGMaille.com
site, very nice and clear pictures there. This bracelet is
Full Persian
. It's a birthday present for my brother :)