Valmis :) Oli küll planeeritud selleks talveks, ent kuna sai varem valmis, siis pole mõtet ka peita. Kokku 24 artiklit: 5 kaelakeed, 5 paari kõrvarõngaid, 6 käeehet, 2 prossi, 2 sõrmust ja 4 juukseaksessuaari. Kasutasin peaaegu kõiki helesiniseid
givre
kive sorte oma kogust, lisaks
kuukivi imitatsioonkive
ja läbipaistvaid ehtekive fooliumkihiga. Kõiki ehteid on 4 eksemplari välja arvatud suur juukseklamber (2tk) - sest pole kätte saanud klambritoorikuid. See laupäev viin need ehted
Les Petites
' poodi ning panen need üles ka
DaWanda
poodi.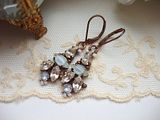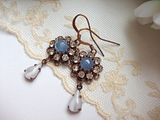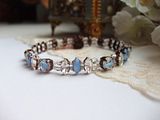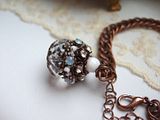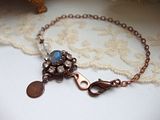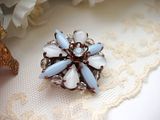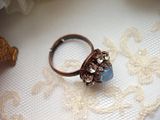 Finished :) I know I wanted it to be a winter collection but since I just finished it I can't keep it only to myself. Alltogether 24 pieces: 5 necklaces, e pair of earrings, 6 bracelets, 2 brooches, 2 rings and 4 hair accessories. I used almost every sort of blue
givre
stones I have, also some
moonstone glass
and transparent rhinestones with folium. Every design is in 4 copys except big hair barrette (2pcs) - I don't have any barrette clips. I'll take this collection to
Les Petites
on Saturday and upload to
DaWanda
before that.