Kõrvarõngad Swarovski (1980ndad) ehtekividest, värvusega Capri Blue. Kõrvarõngad on tihedalt kaetud väikeste siniste kristallidega, mida on kahes suuruses 23pp ja 30pp. Kõik ükshaaval metallist "pesadesse" kinnitatud ning peene traadiga kokku köidetud. Tegu tellimustööga.
***
Ma sain täna valmis ühe osa kingitusest, mis mõeldud lugejatele :) Jep, tulemas on tasuta kingituse loosimine! Vaja veel läbi mõelda osalemise reeglid, ent üks on selge - osalemise võimalusi on rohkem kui eelmisel korral, ja kaasa saab lüüa ükskõik millisest riigist!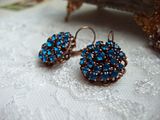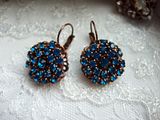 Earrings with Swarovski (1980's) Capri Blue rhinestones. Earrings are covered with small blue crystals that are in two sizes - 23pp and 30pp. All are handset one by one and assembled with thin wire. These are custom order.
***
I just finished a part of a gift, meant for my readers :) Yep, there will be a free giveaway soon! I just need to think through the rules but you can be sure that there will be more possibilities to enter than last time and it's not limited for domestic residents (meaning you can take part no matter where you live)!