See aasta on olnud väga kehv mul prosside koha pealt. Et mitte päris nulli jääda (ikkagi viies kuu juba), otsustasin teha alustuseks midagi lihtsat. Siin kahel viimasel pildil on tundmatu päritoluga pakk lehekestega. Kui peaksin pakkuma, siis arvaksin, et järsku Saksamaa toodang. Lehekesed on nn moonstone klaasist ja helesinised ent pisut räsitud ja määrdunud olemisega.
Pärast natukest puhastamist lisasin juurde mõned klaaspärlid, lillekese ning
Swarovski
ehtekive.
Swarovski
vana
Lavendel
värv on teinud mind uudishimulikuks, kuna seda polnud kusagilt saada ning otsides infot oli tihti värvi kirjelduseks kasutatud sõna "lahja" ning et see on pigem sinine kui lilla. Mõtlen siin just vana värvi, mitte uut
Provence Lavendel
värvi. Võttis aega, enne kui selle värvi kive leidsin ning jah, õnnel oli siin oma roll :) Siin prossis on piklik
Light Sapphire
, tilgakujuline
Comet Argent
(panin tagurpidi, sest see oli võimalik fooliumkihi puudumise tõttu :) - peegelduse loob hoopis pealmine viimistlus) ning navette
Lavendel
. Nii et see värv ikka oligi nii - lahja ning rohkem sinine kui lilla...
Hetkel on see pross üleval
Etsy
's.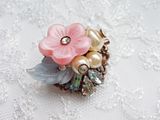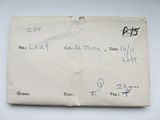 This year hasn't been good for making brooches. So to get started (it's fifth month already) I decided to do something very simple. Here on last two photos you can see a package of leaf shape glass with unknown origin. If I must quess then I probably think it's made in Germany. Leaves are from Moonstone glass in light blue and tired and old looking.
After some cleaning I added glass pearls and flower bead with Swarovski rhinestones. The old Swarovski color Lavendel made me curious because I couldn't find a photo and descriptions usually had word "pale" in it and that it was more blue than violet. I'm thinking the old color here not the new one - Provence Lavendel. It took some time to track it down and yes, luck got a lot to do with that :) In this brooch I used rectangle Light Sapphire, pearshaped Comet Argent (I placed it upside-down because I was able to - it had no foiling :) - so upper finish creates the reflection through the crystal) and Lavendel navette. So it is true - kind of pale and more blue than violet...
This brooch is on Etsy.