Roheline komplekt, mis sai alguse nendest rohelistest helmestest. Need on pisut robustsed ja näevad välja absoluutselt teistmoodi, kui tootekirjelduses. Alguses olin pettunud... siis tundus mulle, et need meenutavad malahhiiti - on sellised rohelisekirjud. See lohutas. Ja siis hakkasin pihta.

Lisasin veel rohelisi jadeiidi helmeid, swarovski helmeid (
Emerald
,
Medium Emerald
) ja ehtekive (
Crystal
,
Siam
,
Sapphire
,
Amethyst
,
Rose
,
Topaz
,
Green Tourmaline
) ning imitatsioon pärleid. Ning kõrvetasin lugematult ehtenõelu vasktraadist. Komplektis on kaks kaelakeed, kaks käeketti, üks pross, üks sõrmus ning kaks paari kõrvarõngaid (ühest paarist pilt puudub). Ehted on praegu
Les Petites
'e poes (Müürivahe 28, Tallinn).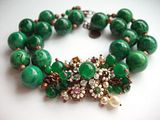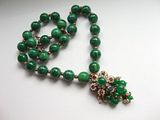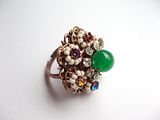 Green set that started from these green glass beads. They're robust and look nothing like the picture on the description. I was dissapointed at first... and then it seemed to me that they look a bit like malachite - same kind of colors and stripes. It cheered me up. And then I started.

I added green jade beads, swarovski beads (Emerald, Medium Emerald) and rhinestones (Crystal, Siam, Sapphire, Amethyst, Rose, Topaz, Green Tourmaline) and imitation pearls. And made countless amount of headpins from copper wire. This set includes two necklaces, two bracelets, one brooch, one ring and two pairs of earrings (one photo missing). Jewelry is at the Les Petites shop (Müürivahe 28, Tallinn, Estonia).