Niimoodi juhtub, kui ei suuda otsustada, kus ja kuidas välja mõeldud motiivi kasutada. Et kas käeketil või kaelakeel, ja kui, siis mitmerealisel ja millise kinnisega...
Nii tuligi kõik meeles mõlkunud variandid ära proovida. Kasutatud materjalid (metall, helmed) on siin uued. Helmed lükitud ketile. Ehtekivid vintage Swarovski.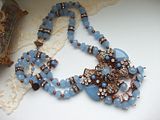 This will happen, if it's impssible to decide where and how to use the newest motif. In a bracelet or necklace, and with how many strings and what kind of clasp to use...
So I had to try all the ideas that I couldn't choose from. Used materials are mainly new (metal components, beads). Beads are strung on a fine chain. Rhinestones are vintage Swarovski.