Plaanisin Tallinna sõita, kuid läks teisiti. Nii ma siis tagusin hoopis nimemärgiseid. See on täiesti arusaamatu, kuidas need alati ootamatult otsa saavad. Ma ju võiksin märgata seda pisut varem ja ette valmistada uued...
Huvitav, mis on saanud neist, kes on minult küsinud tempelraua meistri kontakte, et endalegi see tellida? Kas on läinud kaubaks ja juba kasutavad seda? Andke teada :)
PS! Lisasin
tarvikute-poodi
filigraan plaadikesi ja sõrmuse toorikuid...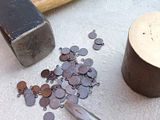 I had plans to go to Tallinn but it didn't work out. So I made some name tags. It is absolutely mysterious how they always run out unexpectedly. I could notice it a bit sooner and make some more...
I wonder what has happened to those who asked the name and contacts of my stamp maker, so they could order their own? Have they received it yet and are already using?
PS I added some filigrees and ring blanks to my
supplies-shop
...