Minu uus lemmik!!! Siin on koos kokku 15 metallist kaunistust, neli auguta kunstpärli (3mm), TOHO valged seemnehelmed (suurus 11/0), üks käsitsi valmistatud klaasist kunst-türkiis "kivi" (14mm), klaaspärlid ning armas 8-kujuliste aasadega kett.
Kaelakee keskosa on sümmeetriline ja klassikalises värvikoosluses pärli ja türkiisiga. Klaasist türkiis "kumerlihviga" kivi on minu arvates väga hästi õnnestunud. See on tegelikult valget värvi klaas, mille pealispinnale on moodustatud helesinise emaili ja pruunaka värviga türkiisile iseloomuliku mustri. Ja loomulikult raamib kõike rikkalikult vasetatud metallist kaunistusi (lilli, "pesasid", võlts "filigraani"). Keti osas olin ma kahevahel, kas teha see klaaspärlireaga või lihtsa ketiga. Ma ei tea, mulle millegipärast tundub võõras see nailonkattega tross - ei jää nagu õiget tunnet. Kas mitte pole õigem pärlitega kasutada mitmekordset niiti? Jääb ehtsam ja mõnusam? Eks kunagi proovin ära, kui kusagilt nii suure koguse klaaspärleid saan :) Seekord tegin kompromissi ning panin nii klaaspärleid kui ka ketti. See on üleval ka mu DaWanda poes.
Edit: Keskosa tagumine pool.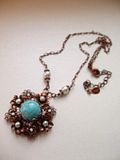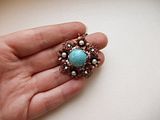 This is my new favourite!!! There are altogether 15 metal pieces, 4 faux pearl cabochons (3mm), TOHO white seedbeads (size 11/0), one handmade glass turquoise cabochon (14mm), glass pearls and a cute chain with 8-shaped links.
The centerpiece of this necklace is symmetrical and in classical color combination of pearl and turquoise. This glass turquoise cabochon is just great. It's actually white glass that is coated with blue enamel and brown color, greating a matrix. And ofcourse it is framed with copper colored metal findings (flowers, settings, stamped "filligree"). I wasn't sure of what I'll do with the chain part: pearl string or coppery chain. I was wondering about the fact that nailon coated steel wire will not have the right "feel" to it. Perhaps it'll be better with strings? Feels more "authentic"? I'll try it some day when I'll have enough glass pearls :) This time I compromized and put a couple of glass pearls with fine chain. It's also in my DaWanda shop.
Edit: The backside of the centerpiece.