Nagu ikka kipub asjadega olema... pole ehtekive samuti kunagi piisavalt. Õnnestus saada navette-kujulisi ehtekive ja mis kõige olulisem, neid värve olen juba ammu tahtnud!!! Mõelda vaid,
Navy Blue
! Nii kui ma nägin, et
Navy Blue
15x4mm navette'id on saadavad, teadsin et pean need saama! Ma ei tea, mis selles värvis on... Veel sain valgeid (
chalk white
) ja
aquamarine
-siniseid. Need kuluvad alati marjaks ära, sest valgeid ehteid teen ma ikka ning siniseid ehtekive saab nii eraldi kui ka mingis värvikombinatsioonis ära kasutada :)
Navy Blue
ja
Chalk White
on Swarovski toodang (1970ndate toodang), sinised ehtekivid Tšehhoslovakkia klaas.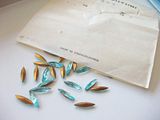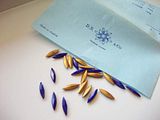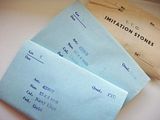 As it happens to turn out with many thing, there's always never enough rhinestones... I managed to get some navette shaped rhinestones and what's more important - I got colors I wanted for so long! Imagine that, Navy Blue navettes!!! When I saw these Navy Blue 15x4mm navettes, I knew I have to have them! I really don't know why that color is so capturing... I also got Chalk White and Aquamarine blue navettes. Well, I do use a lot of white and blue :) So these will be quite handy some day. Navy Blue and Chalk White rhinestones are Swarovski (1970's) and Aquamarine navettes are Czechoslovakian glass.