Viimasel ajal on eriti hinge kraapinud soov helmespõimingut teha. Ja muidugi kalasaba tehnikat (herringbone/ndebele), sest see ju mu lemmik :) Kui sain 40kg Tšehhi seemnehelmeid, siis läks asi susisema. Aga helmespõimingud võtavad ju aega! Ja kui ma juba alustan, siis ei suuda ma seda pooleli jätta ega käest ära panna. No olgu. Ja siis nägin
Lohhi/Skvipe
blogis seda kaelakeed! Nüüd olin juba kindel, et lähiajal võtan seemnehelmed ette. Aga mida täpsemalt teha, ei teadnud. Ning siis nägin
Maariti käeketti
! Oh ja ah, see muster on nii ilus! Kirjutasin talle järgmisel sekundil ja küsisin luba mustrit kasutada, mille ma sain koos täpsustustega, aitäh! Ta on nutikalt kasutanud ristpiste mustrit!
Kuid uskumatu!!! Mul POLE piisavalt seemnehelmeid! Et saaks rahulikult värvikombinatsioonidega mängida, ja 11/0 suurust just... Viimasest Tšehhi laadungist oli mul (ainult) poolekilone 11/0 oliivroheline läbipaistmatu sort, muideks jubenunnu värv :) Ja sellest lähtusin. Kombineerisin TOHO ja Miyuki seemnehelmestega. Ma kardan, et mul saab see roosa otsa enne, kui käekett valmis... Alustasin eile, tundub, et lõpetan täna.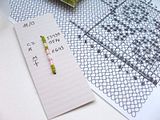 Lately I've been feeling need to work with seedbeads. And in herringbone/ndebele stitch ofcourse, because it's my favourite :) When I got 40kg seedbeads from Czech I coulnd't resist the idea. But seedbeading takes so much time! And I know when I start I cannot put it away and I'll end up working for hours'n'hours. Well... And then I saw
Lohh/Skvipe's necklace
! It was decided I'll start soon but with what I had no idea. And then I saw
Maarit's bracelet
! Oh my, this pattern is gorgeous! Next second I sent her an email with asking her permission and some questions. I received an answer soon, thank you! She's so clever, she used embroidery pattern!
But unbelievable!!! I DON'T HAVE enough seedbeads! Enough to be able to play with color combinations, in 11/0 size... What I had was (only) 1/2kg package of opaque olive green seedbeads from the last Czech order, that is by the way most lovely color :) So I started with this. I combined some TOHO and Miyuki seedbeads. I'm afraid I'll run out of the pink ones before I'm finished... I started with this yesterday and it looks like I'll be finishing today.