Teen pausi oma blogis ja netipoodides. Üldse internetist ja arvutist. Kuid tulen varsti tagasi, nii umbes nädala pärast ning siis juba ehk prilli ja läätsevabalt :) Ehete tegemise ja tellimuste juurde jõuan ka mingi aja pärast. Homme lähen opile.

Piltidel on ehtekividega käeketid. Mul on kogunenud juba päris tore ehtekivide värvivalik :)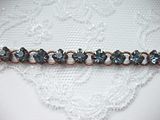 I'm taking a break from my blog and webshops. From internet and my computer too. When I return, I think it will be something like a week from now, I hope I'll be free from eyeglasses and contact lenses :) Returning to jewelry making and custom works takes time. I'm heading to the clinic tomorrow.
On the photos you see some of my rhinestone bracelets. I have rhinestones in quite many colors :)