Ehtekonkursi Blooming Beautiful tähtaeg sai kätte 10. aprilliga. Esitasin ka ise ühe kõrvarõngapaari. Mul olid mõned päevad tähtajani ning et ma suudaksin üldse midagi kokku panna, võtsin terve päeva selle jaoks vabaks. Eks see kujuneski terve tööpäeva tööks ning õhtuks olid sõrmed kanged :) Lähtusin Swarovski
vintage
ehtekivist, mille värvus
Asalea
andis vajaliku inspiratsiooni. Kõik värvid, mis kõrvarõngastes on, nägin ma Asalea kristallis.
Kõrvarõngad
kujutavad liblikatiibu, mis kaunistatud erinevate ehtekividega lillekeste ning lehekestega.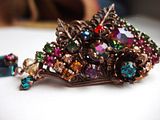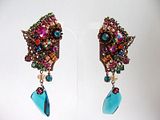 Deadline for entering Blooming Beautiful Design Contest was on 10.April. I made a pair of earrings. Few days before the deadline I took a whole day off for being able to make anything. And it was a long working day that was needed to finish the project. I took my inspiration from Swarovski vintage rhinestone in color of Asalea. All colors used in these earrings are from the Asalea crystal.
Earrings
are constructed to resemble butterfly wings that are covered with glitz, rhinestone flowers and leaves.