Täitsa naljakas, varsti on mul juba traditsioon, sest jälle alustasin ühe asja tegemist ja tulemuseks hoopis miskit muud. Tegelikult oli seda karta, sest mul pole õnnestunud ühtegi ehet teha õpetuse järgi. Välja arvatud enda tehtud lihtsad õpetused...
Esiteks oli tegu kaheniidilise RAWiga. Aga mina ei viitsi kahega jännata ja nii tegin ühega, siis tegin veel mõned muudatused ja ühe pealmise kihi jätsin hoopis tegemata. Algne õpetus oli sellisest raamatust.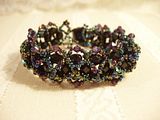 *I guess it will be a new tradition, because again I started with one thing and ended up with another. Actually it is not suprising because I've never succeeded in making a piece exactly according to a pattern of a book or so. Except some simple ones I made myself...
First it should be made with 2needle RAW. But two needles/threads is too much for me so I made it with one. Then I made some more changes and skipped the top layer. I tried to make a bracelet
from this book
.