Traadiväänamise guru Iza Malczyk Poolast teeb hämmastavalt kauneid ja aeganõudvaid ehteid erinevatest väärtuslikest materjalidest (vaata pilti). Ta kasutab hõbedat (väga harva kullatud) materjali ja kombineerib seda vääris- ja poolvääriskividest ning väärismetallist helmestega, samuti kasutab ta erinevaid huvitavaid ja haruldasemaid helmeid, mis lisavad ehetele unikaalsust. Tema traadiväänamise oskused lõid mind täiesti pahviks, kui ma esmakordselt sattusin kodulehele http://www.izamalczyk.com/! Ma istusin tunde oma arvuti ees, silmad pärani ja hoidsin hinge kinni. Ma olen ennegi traadist ehteid näinud, kuid mitte kunagi selliseid!!! Iza on kindlasti kohe üks inimestest, kes mulle minu tagasihoidliku ehete nokitsemises mõju avaldanud!
Mida ma temalt õppisin:
-metallhelmed võivad anda ehtele nii palju juurde
-mitte karta aeganõudvaid projekte
-see, et traati võib kasutada nagu korvipunumisel! Heureka!

Ühel päeval ma võtsin julguse kokku ja saatsin Izale kirja, milles tegin ettepaneku pisikese intervjuuga tutvustada teda ja tema loomingut oma blogis. Iza oli lahkelt nõus ja nii pühendasin selle posituse ainult temale! Järgnevalt 5 küsimust ja tema vastust.

1. Mis on sinu kõige esimene ehe, mis sa valmistasid ning kuidas kõik alguse sai? :)
"Kõige esimene ehe oli paar kõrvarõngaid keraamiliste helmestega. Ma tegin need nagu mõned paarid teisigi iseenda tarbeks. Kui meie poeg sündis, polnud meil raha, mida ehete peale kulutada ja nii ma mõtlesin teha neid ise – see on alati odavam kui osta valmiskujul. Ja nii see kõik alguse saigi. Ma avastasin, et mu emale ja tema sõbratele meeldisid minu tehtud ehted ning ma alustasin oma ehete müümist interneti kaudu. Ma tegin lihtsaid traadist ehteid üle 3000 ja siis, aasta tagasi ma avastasin Eni Okeni lehe ja olin hüpnotiseeritud intrigeerivast traadimässimisest. See oli minu ehete valmistamises murranguline hetk."

2. Kas sul on mõni lemmik ehe/ehted? Mis on selles/nendes erilist?
"Ma armastan kõiki ehteid, mis on seotud "Pirates of the Caribbean" seeriaga. See film avaldab mulle pidevat mõju ja tihtilugu kuulan ma selle filmi muusikat, mis mind jätkuvalt inspireerib. See paneb mind kiiremini ja efektiivsemalt töötama ja samal ajal toob mu mõtetesse hulgaliselt inspireerivaid pilte. Kraken, Pirate's charm, Kalypso, Yo Ho (a pirates life for me), Ocean Tales ja minu viimane töö – Jack Sparrow's compass – need kõik on minu lemmiktööd."

3. Milline on sinu suhe Eni Okeni töödega? Ma küsin seda sellepärast, et olen näinud mõningaid sarnasusi – on mõned asjad õpitud Enilt või on mõned asjad lihtsalt nii universaalsed. Arvan, et peaks küsima sama küsimuse puudutades Magdalena Borejkot, kelle töö on samuti hingematvalt kaunis.
"No, Eni oli kõige esimene traadimässimise kunstnik, keda ma enda jaoks avastasin – ma olen isegi võtnud osa konkursist ArtJewelryForum'is, kus Eni oli kohtunikuks. Sealt ka siis need sarnasused. Magda Borejko on mu sõber, kes alustas traadimässimist koheselt peale mind – me oleme pärit samast riigist ja me alustasime küll sama guru töödest lähtuvalt, kui arenesime kahte üksteisest eristatavasse suunda. Ma ütleks, et praegu olen ma lähedamal Lynne Merchant'i ja Connie Fox'i stiilile kui Eni või Magda omale – ma eelistan raskemat, tumedamat väljendust kui sädelevat ja värvilist. Ja sul on õigus – on olemas mõned universaalsed traadimässimise tehnika alused, mis on vaja omandada kõikidel traadimässimise kunstnikel, kes soovivad selliseid ehteid teha. Kuid pärast lühikest aega, mil hoitakse oma loomingus kinni standardsetest kujudest ja vormidest, hakkab iga kunstnik arendama oma stiili. Traadi mässimise tehnika annab lõputult võimalusi ja igaüks saab leida päris enda isikliku stiili, kasutades sellist ehte valmistamise meetodit."

4. Ma lugesin sinu lehelt, et sul on poeg. Kas ta ka aitab sind vahel ehete loomisel?
"Mu poeg on 3,5 aastat vana ja ta on jälginud minu ehete valmistamise protsessi kõige esimestest elukuudest. Ta teab kõikide ehete tüüpide nimesid ja talle meeldib lükkida helmeid traadijupile :) Samuti talle meeldib mängida sadade lahtiste helmestega – loendades neid, grupeerides vastavalt kuju või värvile. Kuid ta siiski eelistab mängida mänguautodega, kui mind minu töös aidata ;) Kes teab, võibolla ühel päeval ta avastab ehete tegemises peituva rõõmu – ma oleks väga õnnelik teda selle maailmaga tutvustada…"

5. Kuidas sa mõõdad hõbeda sisaldust oma ehetes, kui sinna kulub meetriteviisi traati?
"Mul on päris hea mälu ja ma mäletan, mitu traadijuppi ma mingis kindlas ehtes kasutanud olen. Ma töötan ca 0,5meetriste pikkuste peenikeste traatidega ja lihtsalt korrutan selle traadijuppide arvuga, mida olen kasutanud. Samuti ma kaalun kivid enne ehtesse panemist üle, siis kui kaalun valmis ehte ja lahutan sellest kivide kaalu – saangi teada, palju hõbedat ma sellesse ehtesse olen pannud."

Siin kohal tänan südamest Izat, tänu kelle lahkusele ja vastutulelikkusele see postitus teoks sai!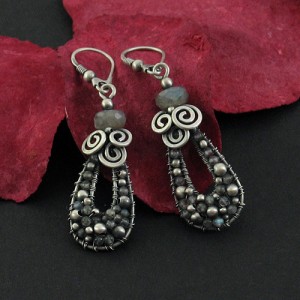 Wirewrapping jewelry guru Iza Malczyk from Poland makes adorable and most time consuming pieces from precious materials (look picture above). She uses silver (very rarely gold plated or gold filled) materials and combines them with beads of semiprecious and precious stones and other interesting and/or rare materials. Her wirewrapping skills confused (in a good way) me completely when I first saw her work on her website http://www.izamalczyk.com/! I sat hours in front of my computer eyes wide open and keeping my breath. I've seen wirewrapped jewelrybefore but never like this!!! She's definately one of the people that most influenced me in my beading! Things that I learned from her:
-metal beads are so adorable and give so much to a piece of jewelry
-not to fear time consuming projects
-the way you can use wire as in basket weaving! Heureka!

One day I wrote to Iza and suggested if I could make a little introduction of her and her work in my blog. She kindly accepted and agreed to answer couple of my questions so I could dedicate this post to her entirely! Here are 5 questions and her answers.

1. What was the first jewelry piece you made and how did it all started? :)
"The first piece of jewelry was a pair of simple wire earrings with ceramic beads. I made those and several other pairs for myself. When our son was born we didn't have money to spend on things like jewelry so I thought of making something on my own - that was always cheaper than buying ready pieces. And that's how it all started. I discovered that my mom and her friends liked things I made and then I started selling my jewelry via internet. I made over 3000 pieces in simple wire technique and then, a year ago, I discovered Eni Oken's site and got hypnotized by the intricacy of wire-wrapping. That was a turning point in my jewelry making."

2. Do you have a favourite piece(s)? Why is it/are they so special?
"I love all the pieces that are related to the Pirates of the Caribbean series. I'm under a constant influence of this movie and to keep itinspiring me I'm often listening to the great music composed for this film. It makes me work faster and more efficiently and at the same time bringstons of inspiring images in my mind. Kraken, Pirate's charm, Kalypso, Yo Ho (a pirates life for me), Ocean Tales and my last piece - Jack Sparrow's compass - these are my favourite pieces."

3. What is the relationship between you and Eni Oken's work? I ask this because I've seen some similarities - are some things learned from Eni or are some things just universal basics. I guess I should ask the same question involving Magdalena Borejko because she makes breathtaking jewelry too.
"Well, Eni was the first wire-wrapping artist I have discovered - I have even taken part in a competition juried by Eni on the Art Jewelry Forum, hence the similarities. Magda Borejko is my friend, who started wire-wrapping shortly after me - we come both from the same country and we have started with the same guru but then evolved into two distinct styles. I must say that right now I'm a bit closer to Lynne Merchant's and Connie Fox's style than to Eni's or Magda's - I prefer the heavier, darker look than the sparkly colourful one. And you are right - there are some universal basics in the wire-wrapping technique that have to be acquired by all artists who wish to make wrapped pieces, but after a short while of keeping to the standard shapes and forms every artist starts to develop his/her own style. Wire-wrapping technique gives endless possibilities and everyone can find a very personal style in this jewelry making method."

4. I read that you have a son. Does he help you sometimes making a piece of jewelry? :)
"My son is 3.5-years old and he was observing me making jewelry from the very first months of his life. He knows all the names for all the jewelry types and likes to string beads on a piece of wire :) He also likes to play with hundreds of loose beads - counting them, grouping according to shape or colour. But he still prefers playing with car toys, than helping me in my work ;) Who knows, maybe one day he'll discover the joy of making jewelry -I'd be really happy to introduce him into this world..."

5. How do you measure the silver amount in your pieces when there's meters of wire?
"I have quite good memory and I remember the number of lengths of wire I've used in a certain piece of jewelry. I work with ca 0.5 metre lengths of thin wires and I simply add the number of those lengths to know how many metres were used. I also weigh stones before including them in a certain piece, then weigh the ready piece and subtract the weight of stones - it shows me how much silver was put into the piece."



And here I'd like to thank Iza, who was interested and kind to answer my questions! Thank you!