Roosa ja vask. Olen taas-avastanud enese jaoks roosa värvi :) Ja üllatus-üllatus, roosa sobib väga hästi ka vasega! Kaelakees kasutasin vasktraati, ketti, vahehelmeid, roosasid Hiina seemnehelmeid ja 4mm lihvitud helmeid. Mingil moel tegin sellise ripatsi, mis mõhimõtteliselt on kokku pandud erinevas jämeduses spiraalidest, mis keeratud eri jämeduses traatidest. Nüüd tagasi mõeldes pole mul õrna aimugi, kuidas ma seda tegin... Eks peab siis kordama :)

Teine kaelakee on üpris lihtne - kolmerealisel ketil on ümmargune ripats :)
Kolmas kaelakee ripatsi tegemisel sain inspiratsiooni ehtekunstnikult nimega julidadesigns. Ta teeb imekauneid kõrvarõngaid!

Kaks esimest kaelakeed on müüdud!

PS! Novembris on tulemas järjekordne isetegijate Pärli-õpituba Haapsalus! Selleaastane üritus on suunatud pärlipõimimistele: kalasabamuster ehk ndebele (mina), võrk (pärlike), lihtne spiraal (ma:rit), lehed või korallid (tsunaami). Vaheaegadel on hetk sotsiaalseks tegevusteks ja ka kehakinnitamiseks. Koha peal müüb helmepõimimistega seotud tarvikuid Silverpoint. Kui on kindel soov osa võtta, siis registreeru, kuna kohti pole lõputult.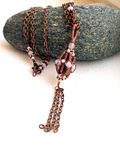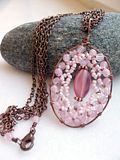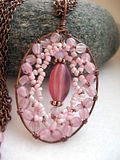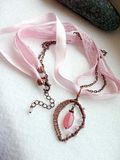 I rediscovered the color of pink :) And supprise-supprise, pink goes well with copper! I used copper wire, chain, daisy-spacers, pink seedbeads (China) and 4mm faceted beads. Somehow I made this pendant that is constructed from different sizes of coils from different sizes of wire. Now thinking back I'm not sure how I did it... I guess I'll have to do it again :)
The second necklace is quite simple - round pendant strung on three chains :)

The third one was inspired of julidadesigns, who makes gorgeous earrings! First and second necklaces are sold!