Roosa orhidee. Veel roosa ja vase kombinatsioonis. Tegelikult kui järele mõelda, siis on ju vask selline roosakas metall... võrreldes messinguga näiteks. Eks sellepärast ta roosa värviga kokku sobibki. Selles kaelaehtes kasutasin ma samasid hiina seemnehelmeid, paari tšehhi klaashelmest ja keskel on india lõigatud klaashelmes. Ketid ja pitsid - paistab, et ei saa ilma nendeta :) Kinnis on ees, olemas on ka pikenduskett ja ripats on eemaldatav. Kaelakee on müüdud.
Käekett ja kõrvarõngapaar läheb komplekti eelmises postituses oleva kaelakeega.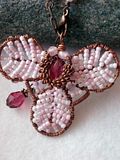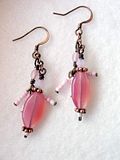 More with copper and pink. Actually... when think about it, then copper has some pinkish tone in it - compared to brass for example. Perhaps that is the reason it goes well with pink. In this necklace I used the same china seedbeads, some chech beads and in the middle there is a india faceted bead. Chains and laces - I guess I can't exclude those :) Clasp is in the front, there's a extension chain and pendant is removable. This necklace is sold.Bracelet and earrings make a set with the necklace from previous post.