Paistab, et paremaid pilte sellest ei õnnestu minul saada. See on minu Värvispektri sinine juuli. Mul on juba üle kuue aasta kestnud õmblusmasina "allergia" pärast aastast õpingut Kergetööstustehnikumis. Ma kogu aeg mõtlen, et peaks üritama midagi sellega ette võtta, sest üks mu nõrkustest on just seotud õmblemisega -> kangad, pitsid, paelad, nööbid jne :) Aga kõik see lõigete konstrueerimine, juurdelõikus ning masinaga vuristamine on judinaid tekitav... Esialgu mõtlesin, et aitaks kui leian mõne vahva ja lihtsa projekti, mida masinal teha, kuid seda olen otsima jäänudki. Nii ma olengi õmmelnud pigem käsitsi.
Selle sinise sameti leidsin kaltsukast, tihtilugu takerduvad näpud mingisugustesse eriti jõledatesse "moeröögatustesse", mis on aga valmistatud ideaalsest kangast! See oli pluus. Pikkade varukatega, kurguni nööbitav pluus, oeh... Mingit mõõtmist või planeerimist ma ei teinud, lõin aga käärid sisse ja niidistasin masina. Ei teinud isegi prooviõmblust :D vaid lihtsalt õmblesin ristkülikukujulise samettüki otstesse nöörvoldid. Ja ikka nii viltu ja sinkavonka kui vähegi võimalik... Otsustasin, et sellest saab mõnusa õmblemise töö, kus ma ei mõtle kõikide nende asjade peale, mis mul koolis õpetati ning mis mind siiani on kammitsenud. Koti vooder on samamoodi silmajärgi lõigatud ning (mis siin salata) pisut väike ja ühte nurka kaldus (et koti asetatud asjad kõik sinna kogunevad...). Koti sangad punusin kolmest nöörist, koti suu kantisin laia atlasspaelaga ning kaunistasin musta tülli, laia ja kitsa pitsi, seemnehelmeste ning sinise lindiga. Nöörvoltide vahele siia-sinna panin ka üksikuid seemnehelmeid (pildil paistavad nagu tolmukübemed). See roos on kangast ja ka kunagi kaltsukast leitud küünlakaunistusest.
Õmblusmasina "allergiast" veel vabanenud pole, aga ehk on mul veel lootust.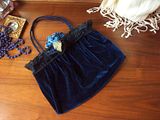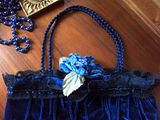 It seems I can't get any better pictures than those. This is my blue July from color spectrum. I have this sewing machine "allergy" for six years now since I spent one year studying clothing design. I think alot of trying to do something about it because I really have a soft spot about different fabrics, laces, ribbons and buttons :) But all that thing about creating patterns, cutting out fabrics and working with sewing machine is still creepy... First I thought if I could only find a great and easy project but I haven't found it yet. So I've mainly sewed by hand.
I found this blue velvet from second-hand, quite often my fingers tangle in some sort of hideous "fashion" that is construct from a superb fabric! This one was a blouse. With long sleeves and buttons up to throat, oh well... I did no planning or measuring just cut it into pieces. I didn't make a swatch :D and started sewing from one end of a rectangle shaped piece of cloth. I decided this will be something fun and not think about all the stuff I was taught in school and that has somehow interfered every idea I had of sewing. The lining is also cut without any measuring at all and (no need to deny) came a bit too tight and tilted to one corner (so everything in bag will roll into one corner...). I braided the handles from three cords. I embellished the bag with different laces and ribbons, tulle, black seedbeads. This rose is from fabric and also found from second-hand (it was a part of a candle decoration).
I still haven't got rid of the sewingmachine "allergy" but I guess I still got hope.