Ma olen ostnud viimased "antiik" ehtekivid ebay'st ja avastasin, et seal müüakse ka Miriam Haskelli ehteid! Need on hingematvalt kaunid ja hinnad, need võtavad samamoodi hinge kinni... Hakkasin siis ehete pilte lähemalt uurima, et teada saada, kuidas need tehtud. Üllatus üllatus, nende tegemisel on kasutatud sama lähenemist, mida minagi!!! Samas tundub see minu puhul väga tüüpiline, et leiutan asju, mis ammuilma on juba tehtud :)
Uurides veel netist, leidsin, et Miriam Haskelli firma tegutseb ka tänasel päeval! Siin on koduleht, kust lugesin, et väljakujunenud märgiks on Miriam Haskelli ehetel kaunid pressitud "filigraan" (stamped filligree), mis on kaetud Russian gold kihiga (ehk siis selline punakas-vasekarva kuld nagu vene ajal siingi kasutati), swarovskid/ehtekivid ja klaaspärlid ning kvaliteetsed klaashelmed. Kõik ehted pannakse käsitsi kokku kasutades traati ning erinevaid metallkomponente. See tundub mulle kohutavalt huvitav :)
Aga see täna valminud ehe on katsetus kasutada traadist kootud paela! Ostsin selle eelmise aasta lõpus (BricolArtist), kuid ei osanud sellega midagi peale hakata. Kasutasin seda siis selles kaelakees. Ma ei tea, kas see pael mulle meeldib või mitte, kaelakeega olen muidu rahul. Tuli välja parajalt uhke-sätendav ja parajalt tagasihoidlik (et kanda argipäeval), ja mis samuti oluline, tugev. Ehtekivide värvid on crystal ja capri blue (swarovski ja Tšehhoslovakkia kivid). Keskosa on 3cm läbimõõduga. Tagumine pool.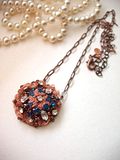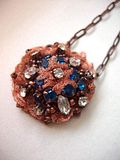 I've been purchasing vintage rhinestones from ebay and discovered that there are many sellers who have jewellery of Miriam Haskell! The beauty of these takes my breath away and the prices well, are also breath taking... I looked more closely the photos to see how these were made. I really was suprrised to see that the same technique was used as I use!!! But then again it's actually very typical to me and it has happened before that I discover and invent things that are done long before they'd come to my mind :)
When I searched more info from the net I found that Miriam Haskell is still in business today. Here is the site where I read that the signature to Haskells jewellery was the use of stamped "filligree", covered with Russian gold plating, swarovskies/rhinestones and glass pearls with quality glass beads. All was hand picked and assembled with wire and different metal components. It all seems very interesting to me :)
This necklace here is my todays attempt to try mesh ribbon.! Ibought it in the end of last year (from BricolArt) but didn't know how to use it. So I tried today. I'm not sure how I feel about this mesh ribbon, I'm happy with the necklace though. It glitters enough and is modest enough to wear everyday and also it's solid and strong which is very important. The colors of rhinestones are crystal and capry blue (swarovski and Czechoslovakias stones). The centerpiece measures 3cm. The backside.