Proovisin vahepeal vahetada metalli. Päris keeruline, kord pole üht vidinat seda õiget tooni, kord teist. Seetõttu tuli prossist hoopis käevõru :D See eelpainutatud traat on ikka paras jõuproovimiseks, õudne, kuidas hakkas vastu mulle ja tükk aega pusisin, et neid kõiki kolme õigesti saada.
Tulemus on täitsa kena, selline pitsiline ja pidulik...
...kuigi mulle meeldib vaskne ikkagi rohkem...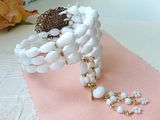 I tried to try another metal color for a change. Quite difficult if I may say. Because I didn't have many findings I needed in brass or gold. I guess this is the reason that a brooch became a cuff :D I had to spend a lot of time with this piece and I had a lot of trouble getting all three memory wire coils to sit nicely.
But I like it, the outcome is nice, delicate and lacy...
... although I must add I like copper colour a lot more...