Pross lillaka sabrina klaaskivi (Lääne Saksamaalt), kuldsete (24karat comet or) swarovskite ja valgetest kuuklaasist tilgakujuliste kividega. Viimased on ühed vanimad mu kivide hulgas (mille sain originaalpakendiga), valmistatud 1945-49 aastatel.
Mul pole praegu ümmargusi metallplaate ja seetõttu panin prossi taguseks ovaalse. Paras pusimine :)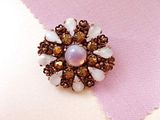 A brooch with sabrina glass (Western Germany), golden (24karat comet or) swarovskies and white moonglass pearshaped stones. These pearshaped glass stones are one of the oldest stones got (with original packaging), from the years 1945-49.
I don't have any round filligree plates right now so I had to put an oval shape behind the brooch. It wasn't easy :)