See on selline klaas, mis mulle on meeldinud esimesest silmapilgust. Olen seda nimetust - sabrina - näinud küll internetis, kuid see tundus nii imelik, et pakkusin selle olevat pigem uuema aja väljendiks, et seda klaasi eristada teistest. Seda enam, et mõnikord nimetati seda givré, art glass või cuba german klaasiks. Te vbl mäletate seda rõõmsat päeva, mil mul õnnestus soetada originaalpakend ehtekive, millel peal kirjutatud sabrina? Novot, nüüd julgen teha järeldusi :)
***
Sabrina klaasist ehtekivide puhul on siis tegemist klaasiga, milles on segu opaal (poolläbipaistev valge) klaas ja tilk mingit muud värvi (läbipaistev või poolläbipaistev). Siin on erinevus givré klaasist, sest viimane oli segu läbipaistvast klaasist ja tilgast läbipaistmatut värvi klaasist. Sabrina klaas on tihti fooliumiga, mis laseb valgusel peegelduda tagasi ja nii tekib selles ilus valguse kuma. Enamasti on see poleeritud pinnaga, kuid mul on üks lihvitud ja mõned pressitud mustriga. Originaalpakendil on kirjas, et kivid on valmistatud Lääne Saksamaal. Mul pole infot, et teistes riikides oleks selliseid kive valmistatud.
See on praegu kogu minu teadmine sabrina klaasist, kui teil on mingit lisainformatsiooni, palun andke teada. Olen selle eest väga tänulik.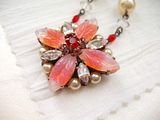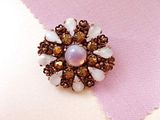 This is the type of glass that I really liked from the first time I saw it. I've seen the name - sabrina - in the net many times, but it seemed weird and I thought it is a newer concept, made up just to distinguish it from the other type of glass. And even more, I've seen this type of glass with names like givré, art glass or cuba german. Perhaps you remember my lucky day when I received an original package with sabrina written on it? So it gave me the confidence to make some conclusions :)
***
Sabrina glass
is a mix of opal (half transparent white) glass with a drop of (transparent or half transparent) color. This is the difference that distinguishes it from givré glass which is a mix of transparent clear glass an a drop of opaque (silky) color. Sabrina rhinestones are often covered with folium on the back side, it reflects the light and therefore it seems to glow. Usually these rhinestones have polished top, but I do have a faceted ones and some with textured top. It's written on the original package that these stones were made in
Western Germany
. I have no info about other countries.
This is my knowledge about sabrina glass so far, if you have any additional information, please let me know. I really appreciate it.