Vanadest ehtekividest ning värvitoonilt hallikas väikese roosa lisandiga kaelakee. Kõige keskel olev piklik kivi on kahevärviline - kristall ja roosa. Hallid ümmargused Tšehhoslovakkia kristallklaasist kivid lähevad kollases elektrivalguses samblaroheliseks :)
Hetkel müügil
Les Petites
'es. Selliste kaelakeede sarja nimi on tegelikult Elisabeth. See halli ja roosaga siin on Elisabeth II.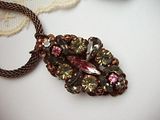 Necklace with vintage rhinestones in gray and some pink. Navette stone in the center is a mix of crystal clear and fuchsia pink. Gray crystal glass rhinestones turn greenish in yellow light :)
Right now it's in
Les Petites
. But the name of this series of necklaces is Elisabeth. This gray and pink one is Elisabeth II.