Ma avastasin, et olen viimasel ajal unarusse jätnud käekettide valmistamise! Kõrvarõngaid muudkui tuleb, ja natuke ka kaelakeesid, aga käekette ei ole teinud juba tükk aega! Nii tegingi ühe, päris lihtsa.

Pruunikirju siidisest klaasist ovaalsed helmed on Tšehhis valmistatud ning neile on peale pressitud lillekujuline muster. Oliivrohelised on aga käsitsi keeratud, mitte just perfektsed, aga eriti põnevas viimistluse koosluses - hõbefoolium ning matt pind! See paneb need helmed salapäraselt kumama! Lisaks kasutasin ka Tšehhi seemehelmeid ning Swarovski kristalle Green Tourmaline.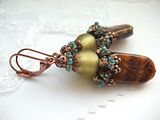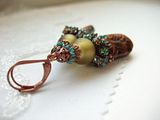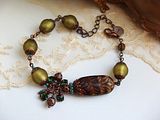 I recently realized that I haven't made any bracelets for a long time! Right now it's more easy to make earrings, even some necklaces, but no bracelets whatsoever! So I made one, and quite simple one.

Oval shaped beads with silky glass in brown colors were made in Czech, they have flowery pattern pressed on the surface. Olive green beads are handmade and not so uniform in shape/size and quality, but they have most fascinating combination of finishes - silver foil and frosted surface! These make the beads glow inside! I also used Czech seedbeads and Swarovski Green Tourmaline crystal rhinestones.