Nüüd on kindel - mu kõrvarõngad "
Wings of the Butterfly
" sai
Blooming Beautiful
konkursil poolfinaali! Ehk siis parima 20 hulka! Viisin täna kõrvarõngad postkontorisse, kust edasi reisivad need Londonisse ning osalevad
Treasure
näitusel
London Jewellery Week 2012
raames 11-17 juunil. Pärast seda lähevad need žürii terase pilgu alla ning kolm parimat valitakse välja 20.juunil.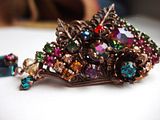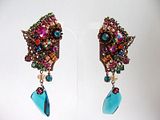 Now it's official - my earring design "Wings of the Butterfly" got into semifinal at the design contest Blooming Beautiful 2012! It's one of the best 20 designs! I took the earrings into Post Office today to start their journey to London where they will be displayed at Treasure during London Jewellery Week from 11 – 17 June. After that the earrings will be studied by jury panel at the end of June and the finalists will be announced on 20 June 2012!