Salaprojekt on valmis. See tekitas tõsist hasarti ning töö käigus tekkis väga palju erinevaid variante ning samuti ka valearvestusi. Varsti tulevad ka pildid, aga senikauaks panen siia mõned kasutatud materjalid ja nende kogused. Muidu nimekiri on tegelikult palju pikem. Kas arvate ära, millega tegu?
*Swarovski kristallid 2,8-4,6mm 108tk
*Swarovski navette ehtekivid 4tk
*2mm pärl 169tk
*3mm pärl 9tk
*4mm pärl 1tk
*6mm pärl 8tk
*8mm pärl 36tk
*tilgakujuline pärl 4tk
*kristallidega vahehelmes 24tk
*ehtenõelad 22tk
*ühendusrõngaid 29tk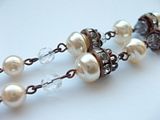 My secret project is finished. It was absolutely thrilling process with many possible variations and also quite a lot miscalculations. I'll post photos soon but meanwhile you can read about some materials I used. The whole list is much longer ofcourse. Can you guess what I made?
*Swarovski chatons 2,8-4,6mm 108pcs
*Swarovski navettes 4pcs
*2mm pearl 169pcs
*3mm pearl 9pcs
*4mm pearl 1pc
*6mm pearl 8pcs
*8mm pearl 36pcs
*pearshaped pearl 4pcs
*rhinestone rondelle 24pcs
*ball pin 22pcs
*jump rings 29pcs