Tegin oma esimese ja väga tagasihoidliku tellimuse Soome helmepoest Luxonia! Sodaliidist ovaalid ning sinisest aventuriinist 4mm ümarad helmed. Tegelikult tahaks veel neid. Tegelikult tahaks veel pisemaidki helmeid, nii 2mm või 3mm suurusi. Tegelikult tahaks neid kohe väga palju...
Soomlanna Heidi nimetas mind Rockin' Girl Bloggeriks! Ma polnud sellisest asjast varem kuulnudki! Asja mõte seisneb selles, et naissoost blogitajad saaksid üksteist/teineteist tunnustada ning toetada, igaüks, kes Rockin' Girl Bloggerik saab, nimetab edasi viis tüdrukut/naist. Selle algatajaks on Roberta Ferguson, kes 18ndal juulil tuli mõttele algatada miskit vahvat, lähemalt saad lugeda siit. Kogu värgiga käib kaasas ka märk, mida näed allpool.

Mina nimetan:
LillySmuul
Mann
Christina
Susa
Magdalena
Te rokite täiega!!! :)
PS See nimetamine ei kohusta teid millekski ;) Lihtsalt üks tagasihoidlik austusavaldus.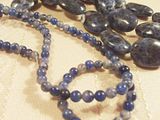 I made my first and quite small order from a Finnish beadshop Luxonia! Sodalite ovals and 4mm round blue aventurine beads! Actually I want some more beads. Actually I would want some smaller beads too, some 2mm or 3mm. Actually I want a lot more of beads...
Finnish blogger Heidi named me a Rockin' Girl Blogger! I'd never heard of that before! The idea is that female bloggers would have a chance to support and give some recognition to each other, every Rockin' Girl Blogger would tag five and so on. Roberta Ferguson was the one who started it on the 18th July, you can get more info from here. And there's a badge that goes with it (look above).

I would like to give this badge to:
LillySmuul
Mann
Christina
Susa
Magdalena

You girls rock!!! :)
PS This tagging does not oblige you to do anything ;) Just giving you some credit.