Jah, kui ma alustasin, polnud mul mõtteski valmistada nööpi. Pigem mõtlesin, et võiks leiutada mingeid uusi nippe, kuidas swarovski flat back'e kasutada näiteks linkide tegemisel.

Aga nööp tuli, ja täitsa uhke nööp! Nööbi diameeter on 16mm, nii et polegi kõige suurem. Siin on siis kokku pandud swarovski kivid (crystal, opal), sinaka metalse viimistlusega lihvitud klaashelmed, ümarad vaskse viimistlusega klaashelmed, vaskhelmed ja seemnehelmed ning üks helmekübar samuti. Kõik kokku põimitud vaskse traadiga.

Igaljuhul on selline "nunnu" tulemus rõõmustav. Nööp on täitsa tugev, nii et peaks vastu pidama ka praktikas. Muidugi nüüd tuleks mõelda, kuhu selline ilutsev asjake üldse sobiks...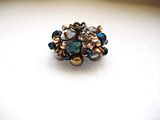 Well, when I started with this, the button was definately the outcome I was not thinking of. I was thinking more of figuring out how to use swarovski flat backs perhaps to form a sort of a link.

But it's definately a button and quite prissy to be honest! The diameter of the button is 16mm so it's not too big. Besides the swarovski stones (crystal, opal) here are some blue fire polished glass bead with metallic finish, round crystal glass beads with copper finish, copper beads seedbeads and a bead cap too. All assembled with copper wire.

I'm quite delighted about thatkind of a "cute" outcome. The button is sturdy and should do well in practice. Ofcourse now there's to think about where such a pretty thing would fit...