Valmis sai mustade Tšehhi klaashelmestega komplekt. Alustasin käeehtest, see on kolmas katse selles stiilis ja lõpuks olen tulemusega ka rahul. Nüüd on see käeehe natuke ellipsi kujuline, mistõttu istub käe peal mugavalt ja kuna ellips on natuke poolik, siis on seda mugav käe peale saada. Ääred on kaetud seest poolt seemnehelmestega, mis hoiavad metallist võre käest natuke eemal. Klaasist seemnehelmed ja vahele pääsev õhk on kandmisel nahale palju parem kui vasetatud metall. Ja arvatavasti on see ka ehtele ja selle elueale parem. Seda käeehet annab painutada erineva randme kuju kaoks, ja kinnise pikenduskett on suure varuga :) Kõik ehtekivid on siin swarovskid.
Kaelakee ripatsiosas on suurem ovaalne klaaskivi, teadmata vanuse ja päritoluga. Seda raamivad ülemises osas swarovskid ja metallist taime osad. Kaelakees kasutasin SoftFlex terastrossi, mis vaskset värvi. Lükkisin 4mm lihvitud Tšehhi klaashelmeid täis, need on musta värvi ja kohati proksja viimistlusega.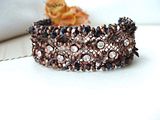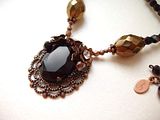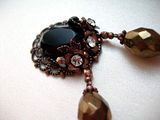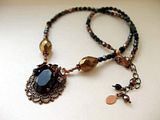 I made a set with Czehc glass beads. I started with the bangle type bracelet. It's third of that kind and finally I'm happy with the results. Now it has a shape of an incomplete ellips and that's why it fits comfortably and is easy to put on. Bangle is coverd inside with seedbeads on the edges and that will bring the metal stamped filligree away from the wrist creating a possibility for air to get between the skin and bangle. Glass seedbeads and air are more comfortable against skin than copper plated metal. That distance between skin and metal will also make the jewelry last longer. It's possible to bend the stamped metal part to fit different wrist shapes and the extender chain will provide the extra customisation. All rhinestones here are swarovskis.
The necklace has a bigger oval shaped glass stone with unknown origin and age. It's framed by swarovskis and stamped metal parts on the upper part. I used SoftFlex bead wire that has copper colour. I strung 4mm Czech faceted glass beads on it, these are black with bronze half coating.