Need kaks valmisid enne kuldpruuni prossi. Kõikidel prossidel on ehtekivide kolmikuid :)
Mõlemal prossil on kasutatud vanu ehtekive. Põnevates värvides. Esimesel on
sabrina

klaasi
ja kahevärvilist läbipaistvat klaasi, teisel on
iris/rainbow

klaas
ja vanu, natuke kulunud swarovski
comet argent
ehtekive.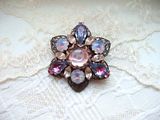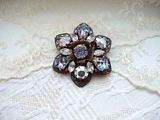 I made these two brooches before the one in goldenbrown. All of them have triple rhinestones :)
Both of these brooches have vintage stones. In interesting colors. First one has
sabrina glass
and bicolored glass, second one has
iris/rainbow glass
and vintage a bit worn swarovski Comet argent rhinestones.