Siin on minu esimene käekett uue karpkinnisega. Sellise kinnituse plussiks on kahtlemata puhas ja viimistletud tulemus, kinnitus on pilgu eest peidus. Miinuseks aga on see, et ehe tuleb kindla pikkusega ning seda ei anna enam muuta nagu näiteks pikendusketiga ehetel.
Kasutasin jälle neidsamu vanu Jaapani käsitsivalmistatud helmeid, vanu ehtekive (sealhulgas Swarovskeid ning Lääne Saksamaa ehtekive) ning kaasaegseid klaashelmeid. Selles esimeses käeketis proovisin üle pikka aja jälle ehtekivide liimimist, liimitud kivid on imetillukesed! Samuti on käeketis üks mu lemmik-ehtekividest helelilla
sarbrina
:) Kõrvarõngad on tagasihoidlikud ning mõlemal on vana helelilla ehtekivi, et ikka oleks sära ka. Kaelakee tegin samuti tagasihoidliku, ripatsiosa on ainult umbes 2,5cm diameetriga. Teises käeketis on Tšehhoslovakkia klaasist hele ametüst-värvi ehtekivid, need pole masinlihvitud. Sellised käeketid on viimasel ajal mu lemmikud ning kannan neid iga päev. Need on suht kerged ning sädelevad päikese käes nagu hullud.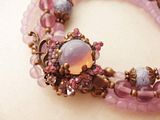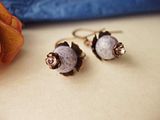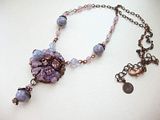 This is my first bracelet with the new box clasp I received. It gives a clean and finished look to the jewelry piece and the locking mechanism is hidden from the view. But that also means jewelry must be made with as accurate leght as possible because it can not be made shorter-longer like jewelry with extender chain.

I used here also those vintage Japanese handmade glass beads, vintage rhinestones (among other there are vintage swarovski and Western Germany rhinestones) and new glass beads. In the first bracelet I used glue to attach tiny pink rhinestones, and these really are tiny! And I also used one of my favourite rhinestone here - light purple sabrina :) Earrings are quite modest with handmade bead and a vintage light amethyst glass rhinestone for some sparkle . Necklace is also modest with centerpiece measuring only 2,5cm in diameter. Second bracelet has Czechoslovakian light amethyst rhinestones, these are not machine cut. I really like these rhinestones bracelets lately and I wear them very often. They are quite lightweight and sparkle in the sun like crazy.