Komplekt korall-oranzika klaaskividega. Need
lillemustrilised
on pärit okupeeritud Jaapanist (Cherry Brand), tahulised
navett
e-kivid on eakad swarovskid (TTC-kvaliteediga). Käeketis olev oranzikas klaaskivi on tundmatu päritoluga. Pruunid läbipaistvad ehtekivid on Tšehhoslovakkiast.
Täitsa sügisesed värvid.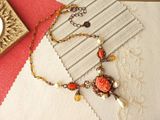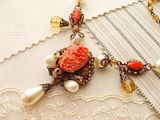 A set with orange coral glass stones. The ones with
floral pattern
were made in occupied Japand (Cherry Brand), faceted navettes are vintage swarovskies (TTC quality). The long navette in bracelet is with unknown origin. Transparent rhinestones were made in Czechoslovakia.
Colors of Autumn...