Sain valmis! Komplekt kaelakeest ja käeketist. Mõlemal on 9 rida helmeid!
Meeldiva üllatuse valmistasid piimjasvalged klaashelmed. Kui need ostsin, siis müüja kirjelduses olid need "
vintage
" ning mainitud oli tootjamaa Jaapan. Helmed olid ajutiselt lükitud niidile ning igal niidil oli silt tootja brändi märgiga. Iseenesest väga armas. Aga kui ma antud ehete jaoks hakkasin neid helmeid uuesti lükkima avastasin, et need on käsitsi tehtud ja mitte pressitud vaid nö keeratud. Tänapäeva ümmargusi helmeid pressitakse, et saada ühesuurune, -kujuline helmes. Aga 4mm helmeid ümber metallvarda keerutada... Igaljuhul on tegu kvaliteettootega!
Oliivrohelised helmed on tänapäevased, aga lihvitud käsitsi. Kui tavalisel, nö tšehhi tüüpi 12mm
fire polish
helmel on 32 tahku, siis nendel on 96. Sedasi lihvitakse poolvääriskive. Tänu paljudele tahkudele sillerdavad need helmed kaunilt ja püüavad valgust ka enda sisse.
Kinnisel on suur lihvitud kristallklaasist tilk, ehtekive ja klaashelmeid. Ja nagu ikka, avastasin ma, et mul on liiga vähe ehtekive. Oliivrohelist võiks rohkem olla :) Oliivroheliste juurde panin ma tšehhi kristallist ehtekive "
sahara
", mis otse vaates on sinine, küljelt oliivroheline ning viskab mõne oranžika helgi ka sisse.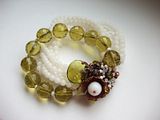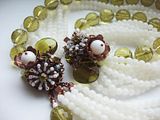 Finished! Set of a necklace and bracelet. Both have 9 strings of beads!

I had a nice surprise with these white milky beads. When I bought them they were described as vintage and made in Japan. They were temporary strung and every string had a label with brand name, logo and country of origin. Very cute. When I started to restring them I noticed that these little beads were handmade, and not pressed but handwound. These are all in one shape and size as handmade beads ever can. Definately a quality product!

Olive green beads are new, made in nowadays, faceted by hand. When most commonly used faceted beads are usually fire polished czech glass beads, then in size 12mm they have 32facets. But these green ones here have 96. They usually cut semi-precious stone beads like this. Swarovski also have article like that, but cutting is made with machines so result is meticulously precise. Thanks to so many facets the green beads sparkle and also catch light within.

The clasp has a big faceted pear shaped crystal glass bead/pendant, some rhinestones and beads. And as many times before I realised that there's not enough rhinestones. I should have more in olive green :) But I added some czech crystal rhinestones in Sahara color. It has a blue and olive green colors with a little orange flash in it depending the angle you look.