Olen päris tubliks postitajaks hakanud. Mul poleks muidu nii palju aega, aga kuna olen tööst vaba, siis on liigne agarus tabanud mind just helmetööde puhul!
Seda komplekti alustasin eile ja lõpetasin täna. Tegelikult oli mõttes hoopis midagi muud... Kuid olen tulemusega siiski rahul. Alustasin ripatsi tegemisega mõeldes teha midagi selle pruuni ripatsi sarnast, kuid pruun klaasitükk ei sobinud minu valmistatud raami ja nii pidin otsima midagi suuremat. Roheline klaas oli küll suurem, kuid selleks, et see raamist ikka välja ei kukuks, lisasin äärtesse helmeid. Tegin veel traadimässimist mõnedele helmestele kasutades ammu tehtud seemnehelmeste segu. Mulle väga meeldib kasutada mässimisel seemnehelmeid, päris täpselt ei tea, miks...
Kasutasin hõbetatud traati. Kõrvarõngaste konksud on igaks juhuks hõbedased. See komplekt on müüdud.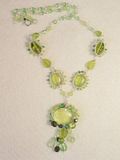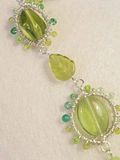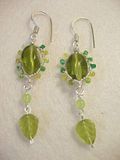 *I've been busy posting here. I don't usually have that much time, but since I have a break from work I've becoming more eager to bead!This set I started yesterday and complited today. Actually I wanted to make something completely different... But I'm still happy with the results. I started to make a pendant similar to the brown one, but the brown glass didn't fit to the wireframe and I had to find a bigger one. The green one was bigger but not big enough so I needed to add some beads to make sure that it will not fall out. I did some wirewraping with few other beads using 11/0 seedbeads from a mix I made some time ago. I like those seedbeads, don't know why...I used silverplated wire. Earring hooks are silver just in case. This set is sold.