Midagi lihtsat... Paksu messingtraadi ümber keritud/mässitud vask ja messingtraat koos erinevate helmestega. Alguses oli mõte teha kinnis ka, aga nüüd tundub, et pole vajagi. Või siis ikkagi panen... Mõtte sain siit, sellel lehel on veel palju kauneid ehteid Lisa Niven Kelly poolt! See oli esimene katsetus, kui veelkord proovin, siis arvatavasti panen neid traadispiraale ka sisse.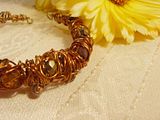 Something simple... Copper and brass wire wrapped around thick brass wire with different beads. First I wanted to add a clasp, but now it seems there is no need to. Or maybe I will, I don't know... I got the
idea from
here
, absolutely gorgeous jewelry from Lisa Niven Kelly. This bangle is my first attempt, next time I'll probably add those wire coils too.