Kolmapäeval said osad isetegijad kokku Viru keskuse Rahva Raamatu kohvikus (bestseller), lappasime raamatuid, mis Külli (alias Karnaaks) tõi, näppisime ehteid ning jutustasime. Sain Evelilt (alias pärlike) kingituseks imearmsa kroku! Aitäh sulle! Veel astus meie juurest läbi Joosu ja sibulaplix.
Ja kuna viimasel ajal on juhtunud, et näitan siin pigem teiste kätetööd, siis täna valmis üks ripats, mille riputasin organsa paelale. Helmeste värvus peaks olema hematiidi moodi, kahjuks pildilt seda hästi ei näe. Tahtsin teha midagi keerulist, aga tuli pigem midagi lihtsat - 90% kavandatust jätsin tegemata :) Aga see tuli täpselt selline nagu pidi.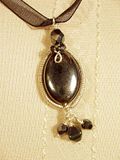 On Wednesday I met some members of isetegija.net forum. Again we talked about beads, read some beading books Külli (alias Karnaaks) took with her and looked some jewelry. I got a little gift from
Eveli (alias pärlike)
- a little crocodile! Thank you!Since I've shown some work by others, I'll show a pendant I made today. The color of the beads should be hematite, though it doesn't look like it on the picture. I set out to make something difficult but ended up with something quite simple - I didn't do 90% what I planned to :) But it came out exactly as it should.