Kui ma ükskord kirjutasin, et tahaks ka kangesti selliseid vaskplaate nagu Sirjelgi, siis hakkasid tema suurest abivalmidusest asjad liikuma ning lõpuks oli mul posu vaske käes :) Ilusad plaadid kõik, augudki sees... Aga no mis ma oskan nendega teha? Eks ma võtsin siis selle mänguhaamri jälle kätte ning tegin stressimaandamise teraapiat. Enamuse plaadist lõin haamrijälgi täis, keskele tagusin messingtraadist keeratud spiraaliga pisut "mustrit" (ja tulemusest on näha, et käed värisesid). Võtsin sellesama suure metalli viili ja viilisin nurgad maha. Päris põnev oli :P

Ma avastasin, et mul polegi eriti kollaseid helmeid. Ühed piklikud olid ostetus valmis keena ning mõned seemnehelmed võis ka kollastena klassifitseerida, need sain bijoux-componentsist iga tellimusega kaasa (neid on kogunenud paras hulk...). Eks mul olid mõned peenema viimistlusega Tšehhi helmeid ka, kuid need ei sobinud sellesse stiili. Komplekt Värvispektri kollase juuni jaoks.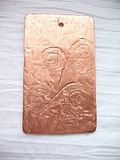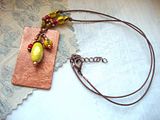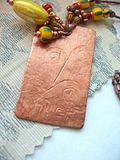 I once wrote I'd like to have similar copper plates as Sirje, she was really helpful and eventually I had a lot of copper plates :) Pretty ones I must tell, with drilled holes and all... But what can I do with them? I took out my childrens "tool"kit hammer and made some stress therapy. I hammered the most of the plate, so it was nicely textured, in the middle I hammered with a help of brass wire, some spirals (lines came shaky though). I took my big file and made the corners round. It was quite exciting :P

I found out that I don't have much yellow beads. Those ovalshaped were bought as a necklace onve and some seedbeads that were mostly yellow that I got as a gift with every order from bijoux-components (I've got lots of those...). I do have some fancier Chech beads but they style didn't fit with the copper plate. This is a part of Project Spectrum for yellow June.