Viimasel ajal on palju juhtunud: sain posti vahendusel kätte kolm Beads Bee ajakirja (kõikide mu BeadsBee ajakirjade esikaaned leiad siit), kohtusin Agnesega, sain suure ehtetellimuse Prantsusmaalt ja uskumatu, aga võitsin Swarovski küsitluses osalemise eest CreateYourStyle komplekti! See on nii sürr, ma olen muidu selline inimene, kellest loosiõnn mööda hiilib... Aga nüüd olen suure küsimusega maadlemas, mis selle komplektiga teha, kas tõesti teha õpetuse järgi heegeldades, või kasutada neid helmeid oma disainis. Hmmm...

Terve eilne päev mässasin helmestega :) Inspiratsiooniks oli varem valminud käevõru. Aga öelge oma arvamus, kas must värv on teie arvates liiga sünge?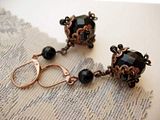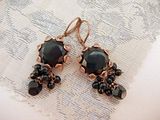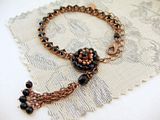 A lot has been going on lately: I received three Beads Bee magazines (you can see all the front pages of my BeadsBee magazins here), met Agnes, got a huge jewelry order from France and unbelievably I won a CreatYourStyle kit from participating Swarovski survey! It's so unreal, I'm the type of person who doesn't have any luck when it comes to different drawings... But now I'm struggling with the question whether I should try to make that bracelet as it is written or use those sparkling beads in my own design. Hmmm...

Yesterday I was making jewelry all day long :) I got inspired by black bracelet.
Tell me your opinion, is black color too gloomy?