Mõnikord on hea pugeda kõige eest peitu, sukelduda oma kujutlusmaailma ning teha täielik shut down. Rutiin ja mured kipuvad muidu lämmatama...

Seekord ma teesklesin ja kujutasin ette, et maailm on üks ilus koht. Liiga imal värk? :)
Värvitud mageveepärlid, mitte-nii-roosa roosa kvarts, kristall ning vask. Tahtsin, et ripats oleks rohkem ebamäärane, aga tuli hoopis ümmargune... No olgu siis ümmargune, kui tahab. Raamisin mustriliste vaskhelmeste ning tillukeste roosakvartsist helmestega. Kee on müüdud.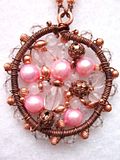 Sometimes it feels necessary to hide from everything, lock myself in my world of imagination and shut down completely. Because otherwise routine and worries could get me...

This time I pretended and imagined that world is a beautiful place. Too sweet? :)
Dyed freshwater pearls, not so pink pink quartz, chrystal and copper. I didn't want to make this pendant round but it came out like this... I let this be. I framed it with copper beads and tiny pink quartz. This necklace is sold.