Ma olen erkpunast vältinud vist peaaegu, et pidevalt :) See värv tundub mulle liiga pealetükkiv ja agressiivne. Muretsen, et millega seda kokku sobitada jne jne jne. Teen algust erkpunasega lähemalt tutvumisega. Alustan sellisest turvalisest kahe värviga lahendusest. Kreemikas valge, see sobib ju kõigega :) Siin on siis pärlmutrist helmeid suuruses 2mm, 4mm ja 7mm. Punased helmed ja kumera lihviga ehtekivi on klaasist, kõige väiksemad helmed on 15/0 suurusega seemnehelmed. Mulle niiväga meeldis selle klaaspärlitega kaelakee kettidest ripats, et proovisin seda ise teha. Tulemus on haledam ja õrnem, kuid kuna kogu ripats on iseenesest väiksem, siis peaks sobima küll.
Head Sõbrapäeva kõigile!!!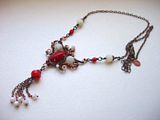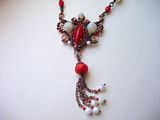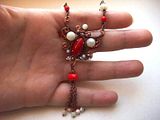 I've been avoiding bright red for really long time, always actually :) It seems too agressive and obtrusive. I'm worried about what colors go with it and so on. So I'm starting to make my acquintance with bright red. I begin with a safe color combination of two colors. And natural white, eh, it goes well with everything :) Here are 2mm, 4mm and 7mm beads from mother of pearl. Red beads and domed cabochon is from glass, the smallest beads are 15/0 size seed beads. I really liked the chain tassel I used with this
glass pearl necklace
so I tried to make something similar. The outcome is more frail and delicate, but since this whole pendant is smaller it should fit better.


Happy Valentine's Day for everybody

!!!!