Mul pole kaugeltki vähe kogunenud igasuguseid ehtevalmistamise värke, kuid millegipärast kipun tahtma just seda, mida saada pole :) Nagu näiteks 2mm suuruseid klaaspärleid. Võta või jäta, kõige väiksemad on alati poodides ja tootjatel 3mm. Aga ma tahan 2mm...
Kuni järsku oli eBay oskjonil 2mm imitatsioonpärlite punt. Tegu pesuehtsate 1950ndate (kui mitte varasemast ajast) Jaapanis toodetud klaaspärlitega! Lükitud kahekordsele
imepeenikesele traadile ja lipikutega
. Ma pidin need endale saama.
Kusjuures oma üllatuseks avastasin, et kui tänapäeval kasutatakse klaaspärlites piimjat klaasi, mis siis kaetakse pärlmutrise värviga, siis tol ajal valmistatud klaaspärlites on läbipaistev klaas. See muidugi tähendab, et pärlmutrise kihi kulumine torkab rohkem silma.
Niisiis, avastades, et need vanad klaaspärlid sobivad uute Tšehhi
bright mink
värvi pärlitega, valmistasin paari kõrvarõngaid ja kaelakee, mida annaks nendega sobitada. Väiksed 12ss suurused swarovski AB-läikelised kristallid (oh, kuidas tahaks, et neid oleks ka vaskses viimistluses!), suured lihvitud klaashelmed ja veel helmeid, osadel AB läige.
Edit: Huvitav, kas keegi on märganud, et kõrvarõngastel on miskit valesti? ;)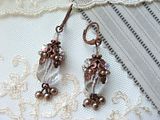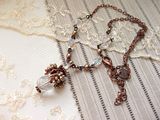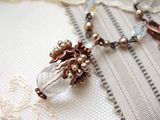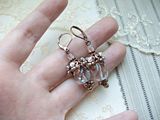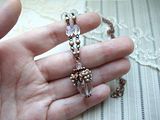 I can't say I haven't gathered enough jewellery making supplies over the years by now, but as a rule I seem to want those things I can't get :) For example 2mm glass pearls. Take it or leave it, the smallest ones avalable in stores or by manufacturers are 3mm pearls. But I want 2mm...
Until suddenly I found a hank of 2mm imitation pearls on eBay auction. These were genuine vintage glasspearls made in 1950s (if not earlier) in Japan! Strung on two hair thin
wires with paper labels and all
. I had to have those.
It's rather interesting that todays glass pearls are made of milky glass and then covered with pearly finish, but those vintage ones were made using clear glass. That means that it's more easy to see when the pearly coating wears off.
So, finding that those vintage pearls go well with new Czech glass pearls in bright mink color, I made a pair of earrings and a matching necklace. Little 12ss size rose montees with swarovski crystal AB (I wish I could have them in copper plated settings!), faceted large glass beads and other glass beads, some with AB coating.

Edit: I wonder if anyone has noticed there's something wrong with the earrings? ;)