Sinisinised ehted. Neli käeketti, üks pross, kõrvarõngapaar ning kaelakee. Kas teadsite, et Austria swarovski "
aquamarine
" ehtekivid on hoopis teist värvi kui Tšehhoslovakkia, Saksamaa ning Jaapani sama värvinime kandvad kivikesed? Igaljuhul on väga kurb, sest ei saanud neid sinised sätendavad swarovskeid ju teistega koos kasutada. Tegin selle kaelakee ja käeketi special selle pärast, et neid swarovskeid kasutada.
Mäletan, et kui ostsin need tillukesed Prantsusmaal toodetud klaaskivikesed, (sinises pakendis) siis oli neil kiri juures, et kollektsionäärid koguvad neid kive pakendite pärast. Kui need kätte sain, olin nõutu, sest see pakend suurem asi ei tundunud. Seda seni, kuni avasin paki ja vaatasin, mis seespool oli :) Selline mulje jääb küll, et pakendi paber on pandud tagurpidi. Kas need neljakohalised numbrid on telefoninumbrid?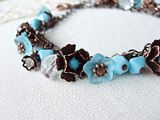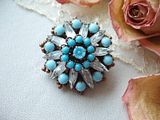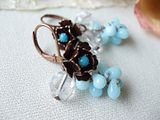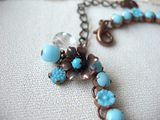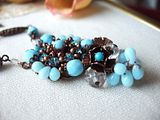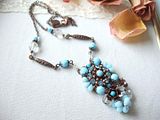 ***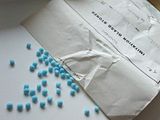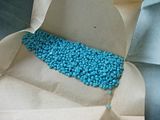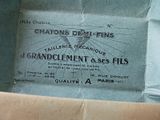 Blue jewelry. Four bracelets, one brooch, a pair of earrings and a necklace. Did you know that Austrian swarovski color aquamarine is very different from Czechoslovakia, Germany and Japan aquamarine rhinestones? Either way it's quite sad, because I couldn't use these swarovskies with other blue rhinestones in my stash. I made this necklace and bracelet specially so I could use them now.

I remember when I bought these French rhinestones in blue package, it had a note that these packages were highly collectable because of the paper packing. When I received it, I didn't know what to think because it wasn't much at all. Until I opened the package and discovered what was inside :) It seems like the front side is inside. Are those four-digit numbers telephone numbers?