Uus komplekt swarovski "navy blue" kivikestega. Seekord kasutasin ka vanu swarovski helmeid "comet OR", mis välimuselt on väga sarnased swarovski kivikestele "comet OR, 24karat coating". Need on tegelikult ilma värvita helmed, mis on kaetud sellise kuldse kihiga.

Ja muidugi "navy blue", üks mu lemmikuid. Ikka ja jälle olen probleemi ees, et mul pole 100% õiget tooni helmeid juurde panna. Selles komplektis on sinised fiiberklaasist helmed (kassisilm) ning läbipaistvad sinised helmed, mis on väga sarnased sellele swarovski värvile. Pildid pole just kõige paremad...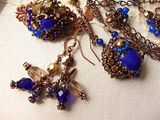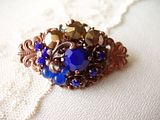 New set with swarovski Navy Blue. This time I also used vintage swarovski beads in Comet OR color. It's very close to rhinestones that are Comet OR, 24karat coating. Basically they have a crystal clear core and gold color finish.

And ofcours Navy Blue rhinestones, one of my favourite color. Once again I faced the fact that I don't have beads that'll match 100% with these rhinestones. I used blue fiber glass (cat's eye) beads and transparent blue glass beads that are close to Navy Blue. Photos didn't come out as I wanted though...