Kui ma neid rohelisi ehtekive nägin, siis ma kohe nii väga tahtsin neid! See poolläbipaistev valge-rohelise kirju klaaskivi on pealt kumer ja alt kuldfooliumiga. Pärit on ta kusagilt 1940ndatest! Minustki vanem ja tal võttis kõvasti aega, et oodata kuniks temast ehe valmib (vaeseke istus kogu see aeg laos). See traatidest mässitud sigrimigri peaks kujutama lillebuketti :) Kas kuidagi paistab see välja ka? Daisy-spacerid koos 2mm kassisilmadega peaks kujutama lilli. Mõnus oli seda ehet teha :) Kuidagi kergelt ja kiirelt sai valmis. Seal on veel läbipaistvad lihvitud helmed, millel valge kiht peal. Alguses suhtusin neisse eelarvamusega, kuid nüüd mulle need täitsa meeldivad! Eriti kui need on natuke nurkadest kulunud ja näevad välja nagu oleks kilpkonna kilbi mustriga :P
See kee on müüdud.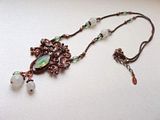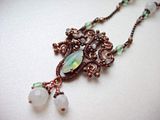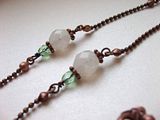 When I first saw these white-green navettes I absolutely had to have them! This rhinestone is domed at the top and has a gold folio at the bottom. It's from the 1940's! Older than me and waited really long time to become a part of a piece of jewellery (it was put away all this time). The wire wrapped part should imitate the flower bouquet :) Can you see it? Little daisy-spacers with tiny 2mm cat eye beads should be like flowers. I really enjoyed making this necklace :) It seemed easy and it felt like it didn't took any time at all. There are also some crystal glass beads with white surface coating. When I first saw them I didn't like them at all. It seemed really odd to put this kind of unattractive coating on a glass bead. But now I really like them. Especially when the color has worn off from the edges and the bead looks as if it was a tortoise shell :P
This necklace is sold.