Vot see on üks huvitav ehtekivi - see on iseenesest kristalli värvi ehk läbipaistev klaas, milles on tilk värvilist klaasi! Sellel on siidist beeži sees, ehtekivi tagumine pool on peegelkihiga, mis peegeldab nii valgust kui ka seda beežist klaasist moodustunud kujutist. Väga sarnase tooni leidsin beežikates pärlmutrist helmestes!
Mul on selline klaaskivi, millel on tilk valget klaasi, kuid tagumine peegelkiht on nii palju kannatada saanud, et pean vist selle hoopis tagant ära hõõruma. Oma helmeste kogust leidsin ka selliseid helmeid, milles oli küll valget klaasi aga ülejäänud oli läbipaistev roosa klaas. Sellist klaasi on vahel nimetatud
givre
klaasiks. Ma ei tea, kuidas seda hääldatakse või kustkohast see nimetus pärit on. Seda ma aga suutsin välja guugeldada, et
givré
on üks
magustoit
:)
***
Givré
klaas on tavaliselt läbipaistvast klaasist, millesse on pandud värvilist klaasi. See värviline klaas on tihti läbipaistmatu või siidise/pärlmutrise läikega. Mul on siniste kivide
originaalpakend
ja valgete kivide
originaalpakend
, kus seda nime kasutatakse. Mõlemad on pärit
Lääne Saksamaalt
ja seal sees on siis
sinised ümmargused ehtekivid
ja
valged ümmargused ehtekivid
. Olen netis kohanud samuti
Swarovski
kive ja ka helmeid, millel pakendi peal on tükitud sõna
Givré
. Olen näinud ainult läbipaistva kristalli ja ühte sorti värvilise klaasiga. Kõige tihemini
valgega
(üks näide internetist:
pakend
ja
sisu
). Huvitav oleks teada, kas ka Tšehhoslovakkias tehti sellist klaasi. Kui teil on infot, pilte, palun andke teada. Selle klaasi kohta on mul palju küsimusi, kas ka need kivid on givré klaasist, mis on läbipaistva klaasiga, kuid kahe läbipaistmatu värviga (nagu
need
ja
need
); või kivid millel on läbipaistva klaasi sees läbipaistev värv (nagu
need
ja
need
); või kui on segamini kaks läbipaistvat värvi?
***
Edit: Leidsin
siit
, et sõna givré tähendab prantsuse keeles jäätumist või jää sees -> see iseloomustab seda sorti kive ju suurepäraselt! Sealt leiad ka hääldamise kohta infot. PS kui sa guugeldad pilte sõnaga givre, leiad
fantastilisi
pilte!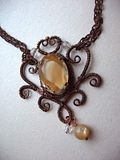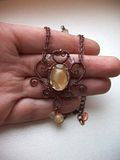 This is an interesting glass rhinestone - the main color is crystal or transparent glass, but there is a splash of colored glass in it! This one has some silky beige glass, foiled back reflects the light and the colored glass. I managed to find a similar color in brown beads of mother of pearl!
I also have a glass rhinestone wich has a white glass in it, but the foiling has some scratches so I think I might need to take it off somehow. I also found some glass beads that have white opaque glass in it, but the rest is transparent pink glass. Sometimes thiskind of glass is called givre glass. I don't know how it is pronounced or what does this mean, but I found out that givré is a kind of dessert.
***
Givré

is usually from transparent glass with colored glass added into it. This colored glass is usually opaque and/or with silky/pearly look. I have one package with blue stones and one package with white stones, that has that name written on it. Both packages are from

Western Germany

and have round blue rhinestones and round white rhinestones inside. I've seen on the internet that

Swarovski

has rhinestones and beads, that has word

Givré

written on the package. I've seen swarovskies only with transparent and one colour combination. Mostly with white (one example from internet: package and rhinestones). It would be interesting to know if they made that kind of glass in Czechoslovakia. If you have info, photos, please let me know. I have a lot of questions about this glass, are those givré rhinestones, that are from transparent glass but with two opaque colors? (like these or these); or rhinestones with transparent glass with transparent color (like these and these - I bought them as Preciosa crystal, but they seem to have too light weight...); or the rhinestones have only two transparent colors?
***
Edit: I found here that givré means frosted or in ice -> that describes perfectly thiskind of glass stones! And you can find a pronouncing there also. PS If you google pictures with word givre you'll find fantastic photos!