See, et mul siin blogis viimasel ajal postitusi harvalt, on täiesti vabandatav. Kiired ajad... ja igal pool ja korraga. Aga kogu aeg igatsesin ehteid teha, no ei saanud seda hetkekski mõtetest - täitsa jabur tegelikult :) Ja sain omal nahal tunda seda Murphy seadust, mille kohaselt käsitööks võimalik kulutatav aeg on pöördvõrdelises suhtes ideedega. Kui aega on olematult, siis ideid tohutult!

Miskit sain mitme päeva peale tehtud - sinine kaelakee lillega. Sellised seemnehelmestest ja traadimässimisega tehtud ehted on mulle viimasel ajal eriti südamelähedased. Kahjuks on need parajalt aeganõudvad. Kasutasin lõigatud seemnehelmeid (mis kogu aeg helgivad), erinevaid pressitud helmeid, lihvitud helmeid ning musta viimistlusega pehmet messingtraati (0,4 ja 0,8mm). See kaelakee on müüdud.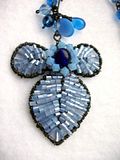 The reason I haven't had too many posts here in my blog is simple. Busy times... and everywhere and at the same time. And all the time I wanted soooo much to make jewelry, couln't get it out of my head - silly really :) I also had a chance to see that the beaders Murphy law really works - the less you got time to bead the more ideas you have ;)Although the busy times I still managed to get something finally done, something I was working on o'so many days - necklace with blue flower. I absolutely adore that kind of jewelry with seedbeads and wirewrapping, especially lately. Unfortunately they're quite time consuming. I used cut seedbeads (sparkling all the time), pressed beads in differents shapes and sizes, faceted beads and soft brass wire with black finishing (0,4 ja 0,8mm). This necklace is sold.