Lõpuks valmisid minu Värvispektri ehted. See on väike komplekt aga see-eest väga pidulik :) Eriti uhke olen kõrvarõngaste üle, kuna swarovski kivikesed mul peaaegu et pankroti põhjustasid, siis on nende kasutamine igati teretulnud.

Need kõrvarõngad on edasiarendus ühest varem näidatud nööbist. Läbimõõt on 2cm ning kasutatud materjalidena on siin ametüst swarovski kristallid (flat backs), pesad nende jaoks, Tšehhi lihvitud klaashelmed metalse violetse läikega ja samas toonis 2mm seemnehelmed ning ka vaskhelmed. Valmis motiiv on kinnitatud kumerale metallist kausikesse ning see ühendatud kinnikäiva kõrvarõngakonksuga. Kahjuks pole minu arvates konks piisavalt tugevasti kinnitatud ja kipub külgede suunas kiikuma... On teil mingeid soovitusi?

Ripatsis on kasutust leidnud Tšehhi lihvitud klaastilk, swarovksi kivikesed vastavate pesadega ning tillukesed vaskhelmed. Ripats on kerge. Ma pole veel otsustanud millele see rippuma panna, kas lindi või ketile...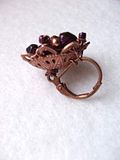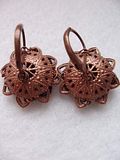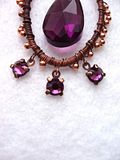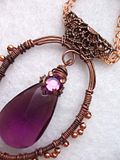 Finally I finished jewelry for my Project Spectrum. This is a small set but not a modest one :) I'm really proud of these earrings. I went almost broke because of those swarovskies and every attempt to use them is a good news to me.

These earrings are developed from the button I once showed you. The diameter is 2cm and there are used genuine amethyst swarovski flat backs, metal bases for them (or whatever they are called),Chezh fire polished glass beads with metallic violet finish, seedbeads in the same tone and 2mm copper beads. The motif is attached to curved stamping and all of this is attached to leverbacks. Though the connection between the stamped filligree and leverback is not so sturdy as I would like it to be... Any advice?

There is a faceted drop in the pendant, same swarovskies and tiny copper beads. The pendant is light weight. I havent decided yet should I string it onto a lace or chain...