Arendades esialgset swarovskitega motiivi natuke julgemaks ja edevamaks, tuli välja selline. See kaelakee oli osa mu värvi eksperimendist :) Värvidena kasutasin siin ametüst kivikesi ning tumelillasid MCsid, helerohelisi ning montana siniseid klaashelmeid. Ahjaa, kahvatulillad lihvitud klaashelmed on siin ka ja violetsed seemnehelmed (ceilon). Ja et kohe eriti edev oleks, panin ripatsi külge kette ja muid lisandeid. Õnneks on kee värvid suhteliselt rahulikud ja nii pole tulemus liialt priiskav.
See motiivi aretus näeb välja nagu mingi eksootilise taime õis :) Sellest ka kee nimi - Kesköö õis.
See kee on müüdud.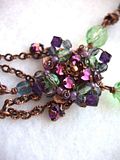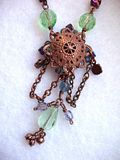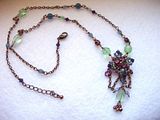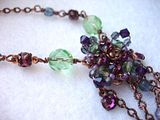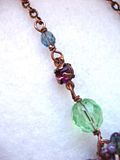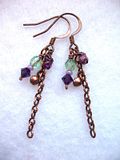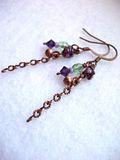 Enhancing the first motif I made with swarovskies I came to this one, more bold and lavishing. This necklace was part of my color experiment :) I used amethyst swarovsko stones, dark purple MCs, light green and montana blue glass beads. And some pale lilac glass beads too, and violet ceilon seed beads. And to make it even more lavishing I added chain and some other accessories to the pendant. Fortunately are colors quite calm and the necklace doesn't seem too vain.
This motif reminds me a blossom of some exotic plant :) That's why I named it - Midnight Blossom.
This necklace is sold.