Mäletate ühte
sinist prossi
? Ja
lugu sellest
, kuidas üritan tutvust sobitada selle swarovski kapriisse värviga
Navy Blue
? Mingil müstilisel kombel, nii kui näen kuskil oskjonil seda värvi ehtekive, tunnen vajadust neid endale saada... Et siis khmm... Mul on lisaks pisikestele lihvitud kividele ja ovaalsele kivile veel teisigi. Lihvitud ümmargused suuruses 8mm (39ss) ning
navette
kivid 15x7mm.
Lisaks swarovski kullaga kaetud ehtekivid ning Tšehhoslovakkia helepruunid ehtekivid. Need kaks sinist helmest õnnestus mul imekombel ühest ammusest helmesegust leida. Vedas...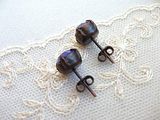 Remember this
blue brooch
? And
how I tried
to use that Navy Blue swarovski stones in my jewelry despite the fact that it doesn't go with anything? In some mysterious way whenever I see this color swarovski stones I must have them... So khmm... I have more shapes besides the tiny chatons and oval cabochons now. Like big 8mm (39ss) round faceted chatons and navettes 15x7mm.
Here's also swarovski rhinestones that are covered with gold layer and Czechoslovakian light brown rhinestones. Those two blue glass beads I found from an old bead mix. Lucky me...